Today's post is from Rob Jones, chief blogger and social media marketer at online flooring and building supplies company, BuildDirect. Speaking to homeowners who are thinking of selling, or who plan on sprucing up a current home for the long haul, Rob lists 11 building materials that will get them there. Take a look!
***
One of the things which makes our work so rewarding at BuildDirect is the part we're able to play in bringing about a transformation for homeowners. Because this is what you want to do, whether you're selling your home, or whether you want to stay in it for the long term; you want to transform it, and make it the best possible space you can.
Luckily, the flooring, tile, and exterior building materials industries have continued to put effort into making products that look great, last a long time, and are increasingly easy to install. Here are a 11 flooring and other building materials products you may wish to consider in order to get the long-term durability, the look, and the return on investment you're looking for when it comes to home improvements.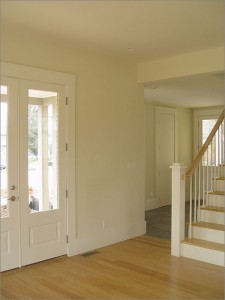 Natural strand-woven bamboo
1.
Strand-woven bamboo floors
. Green building materials continue to be important to modern homeowners. Made from the parings of regular bamboo, strand-woven bamboo is one of the hardest bamboo floors there is as well as being one of the greenest. They are eco-friendly, long lasting, and are available in several different looks including natural, carbonized, and tiger strand. You can also invest in what's called a
direct print strand-woven bamboo floor
, which imprints the grain patterns on colors of traditional hardwoods.
2.
Laminate flooring with attached underlay
. Laminate floors were designed to be versatile and relatively easy to install when compared to a solid hardwood. Now, with new lines of
laminate floors with attached underlay
, you can get those floors installed even faster, and without having to buy rolls of underlayment separately, and without having to lay them down separately either.
3.
Interlocking deck tiles
. Also in the realm of easy installation is
interlocking deck tile
. This is perfect if you've got a flat outdoor surface that you'd like to spruce up, whether its a concrete patio, balcony, or rooftop. You can lay interlocking deck tiles by clicking them together; you don't need special tools, or experience.
4.
Wood grain patterned porcelain tile.
As great as solid wood flooring is, sometimes you want that surface in a place that is known for moisture - an ill-advised locale for solid wood. That's where
porcelain tile that looks like wood flooring
comes in. Porcelain tile is entirely moisture proof, making it the perfect, easy-to-maintain substitute. Only a trained eye will be able to tell the difference, too.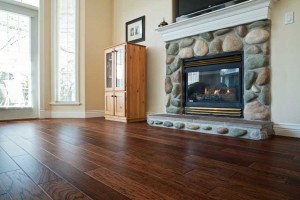 Engineered flooring: veneer of real hardwood, with a core layer like a laminate.
5.
Engineered Hardwood Flooring
. Many homeowners are looking to add of real hardwood floors to their spaces, but want them installed more quickly and more easily than solid hardwoods. This is the perfect application for
engineered hardwood floors
, which utilizes a real hardwood layer, but with a core and backing layer in each board which allows it to be floated like a laminate floor. With engineered, you're getting the best of both worlds.
6.
Stylized Laminate flooring
. This trend has been a long arc, as
laminate flooring
has managed to smash the idea that laminate is second best. Basically, the industry has put tremendous effort into manufacturing technology and has continued to evolve laminate floors into a premium choice. Laminate flooring has become highly stylized, with narrow board effects, hand-scraped effects, beveled edges, and everything you'd expect in a real hardwood floor.
7.
'3-D' Ceramic Wall Tile
. Where mosaic patterning is often difficult to 'de-personalize' if you're thinking of staging your home, another choice is using
ceramic tiles
with uneven profiles for interior wall cladding, creating a textural addition to your walls. The former trend had this practice demonstrated in bathrooms. But, a more current trend shows that designers and homeowners are using wall tile to replace wallpaper in all kinds of locations - bedrooms, dining rooms, living rooms, and more.
8.
Vinyl Tile
. A particularly popular trend with DIYers who are looking to get an immediate aesthetic
pop
in a space, vinyl tile installs very easily, and renders a convincing look in either stone or in wood patterning.
9.
Carpet Tile
. Likewise, Carpet tile allows an easier installation and less fuss than standard wall-to-wall carpeting.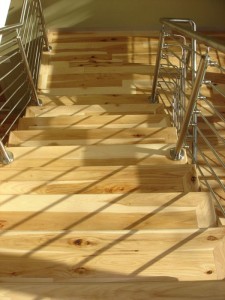 The natural look in hardwood, with color variation, knots, and lots of character
10.
Natural stone for exteriors
. There is something about natural stone used as an exterior which not only brings something of the old world to a property, but also lends it a sense of permanence and strength. Plus, stone is naturally decorative. Some go for real stone siding, some for
manufactured stone vaneer
. And there's even faux stone, that is a sort of lightweight alternative that gives it the appearance of real stone, and is also designed to be easy to install.
11.
Wood Floors with pronounced color variation
. A few years ago, dark floors ruled the roost. But, we're finding that some of our most popular choices in wood floors, including laminates, have been the ones which demonstrate a range of light and dark across the surface, from heartwood white, to reddish tones, to caramel, to black. Basically, to get this kind of look, ask your seller about 'natural', 'folk', or 'rustic' grades.
Many of these types of building materials can be integrated into current decor, to help you achieve a subtle transformation. Or maybe, you're looking to start from scratch with a space you're remodeling completely. Either way, or somewhere in between, there are plenty of options to either make your property more saleable, or more comfortable and beautiful if you're planning on staying a long time.
***
Rob Jones is the prime author of the BuildDirect blog, and the BuildDirect green building blog. You can follow him on Twitter at @BuildDirect. And you can also Like the BuildDirect Facebook page, too.